Egypt mosque attack: Death toll to Raises to 155
Egypt mosque attack: Death toll to Raises to 155, Dozens more wounded after suspected militants target al-Rawdah mosque in north Sinai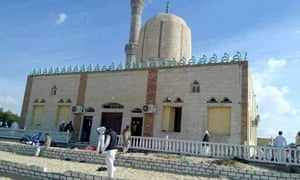 At least 155 people have been killed and dozens more injured in a devastating bomb and gun attack targeting a mosque in Egypt's north Sinai, state television has reported.
Ambulances ferried casualties from the scene to nearby hospitals after the attack on al-Rawdah mosque in Bir al-Abed, west of Arish city. At least 85 people were injured, the Mena news agency reported. The death toll rose repeatedly on Friday afternoon as more details emerged.
Militants in four off-road vehicles approached the mosque as Friday prayers were finishing and opened fire at worshippers, a military source told the Guardian.
President Abdel Fattah el-Sisi convened an emergency security meeting soon after the attack, state television reported.
Egypt's security forces are battling an Islamic State insurgency in north Sinai, where militants have killed hundreds of police and soldiers since fighting there intensified over the last three years.
Militants have mostly targeted security forces in their attacks, but have also tried to expand beyond the peninsula by hitting Egyptian Christian churches and pilgrims.
No one has claimed Friday's attack.
Reuters and Associated Press contributed to this report
Keep Yourself Updated By Following Our Stories From The Whole World
[/vc_column_text]
Stay in touch and keep up-to-date with all our latest news, events and campaigns. Follow us on Twitter for regular updates on our responses to policies and more.Our Twitter feed allows you to stay in touch with our news and activities. Follow us on worldwide project updates and corporate news, as well as events, pictures and many more.Our handle is @nigeriagotnews on all social media