Grammys history and winners through the years
In May 1959, at a star-studded banquet in the Beverly Hilton, the National Academy of Recording Arts and Sciences handed out 28 Grammys. The academy, founded two years earlier, was a relative latecomer to the awards game, with the first Oscars having been handed out 30 years earlier and the first Emmys 10 years prior. The number of Grammy categories once grew to more than 100, but now stands at 83. Explore our reverse chronology below, with key win­ners high­lighted for each year.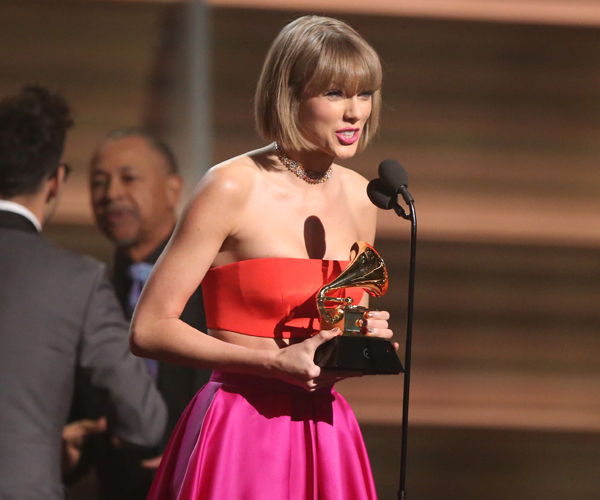 Taylor Swift took home her second best album honor for "1989," while Mark Ronson's "Uptown Funk" won the award for best record. Meghan Trainor was named best new artist. And Ed Sheeran's "Thinking Out Loud" won for best song. In the performances, Adele sounded less-than-stellar and "Hamilton" measured up to the hype, but Kendrick Lamar's fiery set was the show-stealer and overshadowed much of the night.
Record: "Uptown Funk," Mark Ronson featuring Bruno Mars
Album: "1989," Taylor Swift
Song: "Thinking Out Loud," Ed Sheeran and Amy Wadge, songwriters (Ed Sheeran)
New artist: Meghan Trainor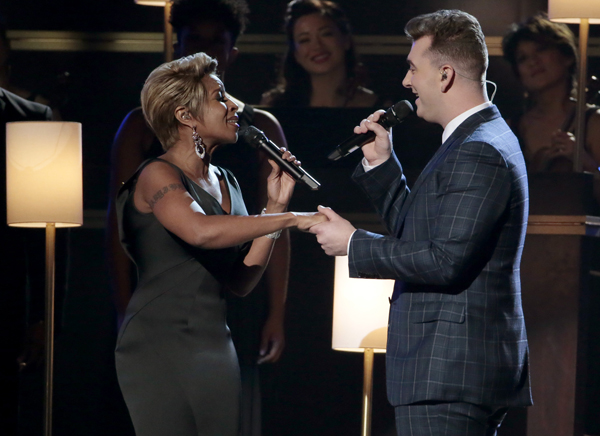 Sam Smith, a 22-year-old British singer-songwriter who was virtually unknown outside his native England a year earlier, took home three of the four top awards. He became the first openly gay artist to win record of the year. Beck's surprise win for his widely lauded "Morning Phase" album led Kanye West to approach the stage at the start of Beck's acceptance speech; later, West blasted the win, saying the award should have gone to Beyonce.
Record: "Stay With Me (Darkchild Version)," Sam Smith
Album: "Morning Phase," Beck
Song: "Stay With Me (Darkchild Version)," James Napier, William Phillips & Sam Smith (Sam Smith)
New artist: Sam Smith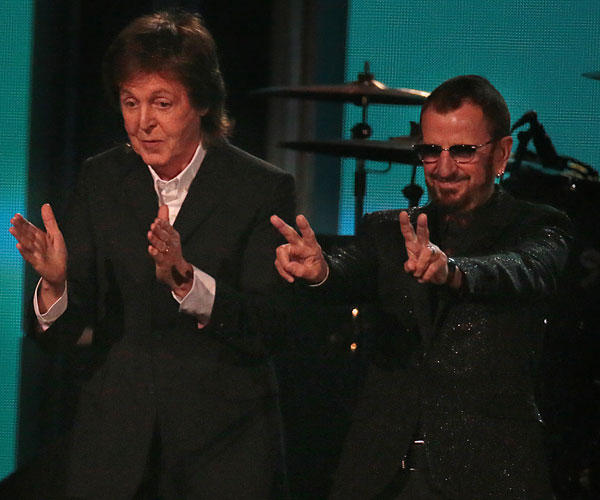 Electronic duo Daft Punk took home honors for album and record of the year, plus two more awards, during a long but visually and musically dazzling ceremony. The Grammy stage also saw the mass marriage of 33 couples, including several same-sex partners, to the music of hip-hop duo Macklemore & Ryan Lewis' gay-rights anthem "Same Love."
Record: "Get Lucky," Daft Punk & Pharrell Williams
Album: "Random Access Memories," Daft Punk
Song: "Royals," Joel Little & Ella Yelich O'Connor, songwriters (Lorde)
New artist: Macklemore & Ryan Lewis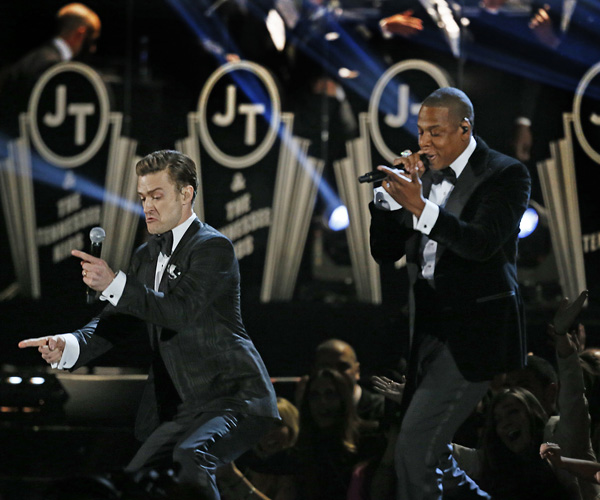 British roots music band Mumford and Sons took the top honor for "Babel" on a night that distributed honors broadly to an array of younger generation acts including New York indie trio Fun., Australian electronic pop artist Gotye, rapper-R&B singer Frank Ocean and Akron, Ohio, rock group the Black Keys.
Record: "Somebody That I Used to Know," Gotye featuring Kimbra
Album: "Babel," Mumford and Sons
Song: "We Are Young," Jack Antonoff, Jeff Bhasker, Andrew Dost and Nate Ruess, songwriters (Fun. featuring Janelle Monáe)
New artist: Fun.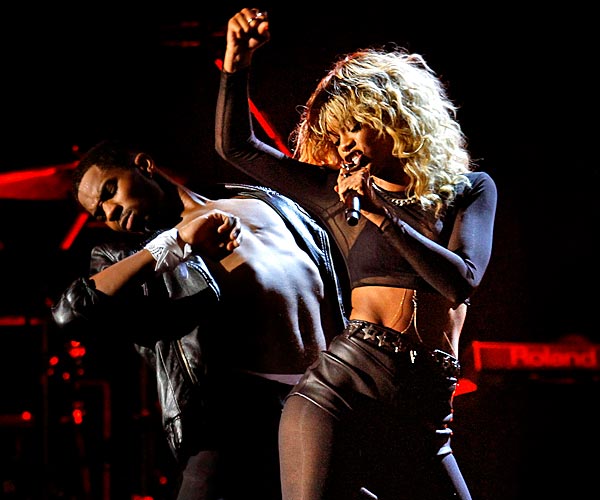 LL Cool J plays host for the second-highest-rated Grammys telecast in history, with an audience of 39.9 million viewers. However, the death of Whitney Houston the day before the ceremony casts a pall over the proceedings. A hastily organized tribute features Jennifer Hudson singing "I Will Always Love You."
Record: "Rolling in the Deep," Adele
Album: "21," Adele
Song: "Rolling in the Deep," songwriters Adele Adkins, Paul Epworth
New artist: Bon Iver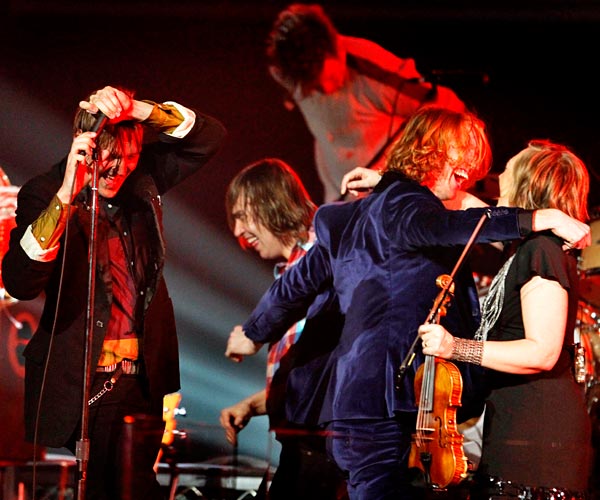 The Grammys may often be written off as a popularity contest, but this year indie favorite Arcade Fire takes home album of the year, making it the first indie act to pull that off. In another category, a 27-year-old jazz bassist named Esperanza Spalding beats out chart-topping acts Justin Bieber and Drake for best new artist.
Record: "Need You Now," Lady Antebellum
Album: "The Suburbs," Arcade Fire
Song: "Need You Now," songwriters Dave Haywood, Josh Kear, Charles Kelley &Hillary Scott
New artist: Esperanza Spalding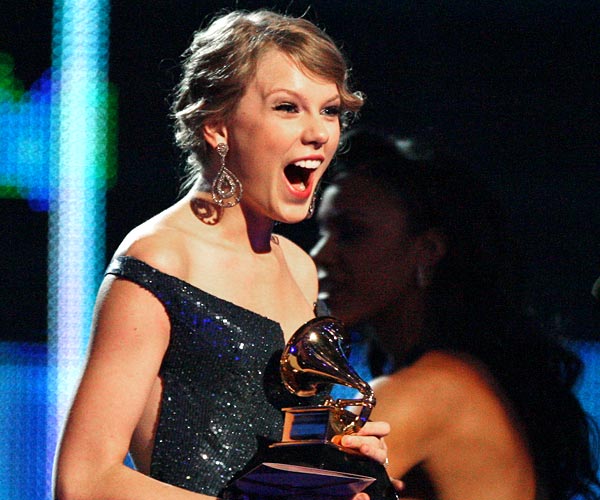 It's a good night for ladies. Beyoncé becomes a record breaker when she takes home six Grammys for her album "I Am … Sasha Fierce." That outdoes the previous record for awards won by a female performer in a single night. Taylor Swift wins four awards, including album of the year.
Record: "Use Somebody," Kings of Leon
Album: "Fearless," Taylor Swift
Song: "Single Ladies (Put a Ring on It)," songwriters Thaddis Harrell, Beyoncé Knowles, Terius Nash, & Christopher Stewart
New artist: Zac Brown Band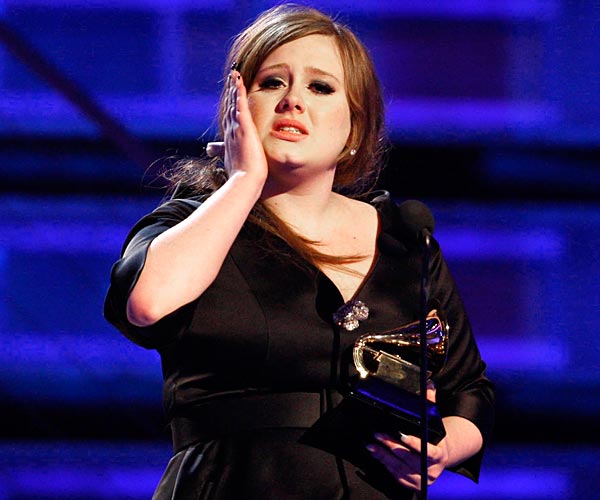 Robert Plant and Alison Krauss are the night's big award winners, but the biggest drama of the 2009 ceremony doesn't take place on stage. Earlier that day, two of the show's biggest stars, Chris Brown and Rihanna, get into a physical altercation resulting in facial damage to Rihanna and Brown turning himself in to LAPD. Neither performer attends the Grammys and Brown later pleads guilty to felony assault. The incident becomes the hot topic of conversation in the media and by attendees of the show that night.
Record: "Please Read the Letter," Robert Plant & Alison Krauss
Album: "Raising Sand," Robert Plant & Alison Krauss
Song: "Viva la Vida," songwriters Guy Berryman, Jonathan Buckland, Will Champion, Chris Martin
New artist: Adele
We Bring You All The Crucial Information From Every Field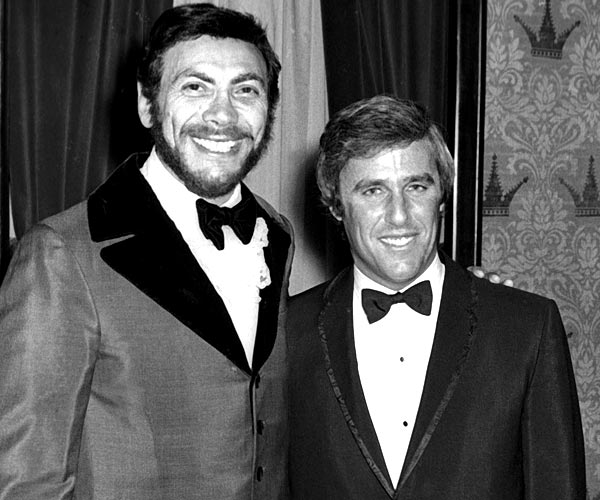 Otis Redding is posthumously awarded two Grammys for his hit "(Sitting on the) Dock of the Bay," and the show itself is memorable for a performance at the Century Plaza put on by the Los Angeles cast of the musical "Hair" featuring songs from the next year's record of the year: the 5th Dimension's "Aquarius / Let the Sunshine In." Other ceremonies occur in New York, Nashville and Chicago.
Record: "Mrs. Robinson," Simon & Garfunkel
Album: "By the Time I Get to Phoenix," Glen Campbell
Song: "Little Green Apples," songwriter Bobby Russell
New artist: Jose Feliciano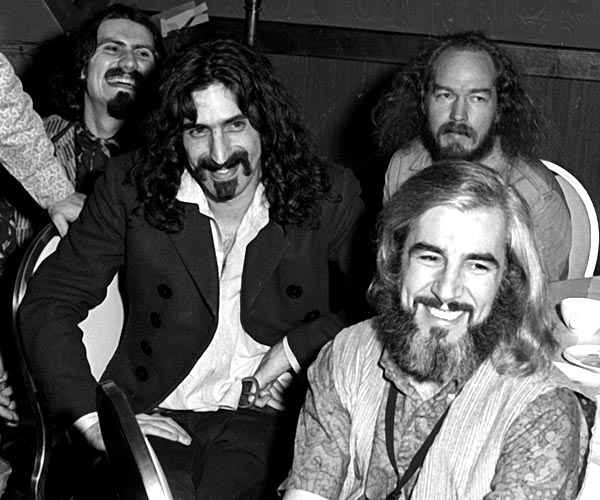 The 5th Dimension wins for record and song of the year, but can't overcome Bobbie Gentry as best new artist. Also awarded this year is instant classic "Respect" by Aretha Franklin in multiple R&B categories, and an award for best sacred performance ("How Great Thou Art") by Elvis Presley. The awards are handed out in Chicago, Nashville, New York and at the Century Plaza in L.A.
Record: "Up, Up and Away," The 5th Dimension
Album: "Sgt. Pepper's Lonely Hearts Club Band," The Beatles
Song: "Up, Up, and Away," songwriter Jimmy Webb
New artist: Bobbie Gentry
MARCH 2, 1967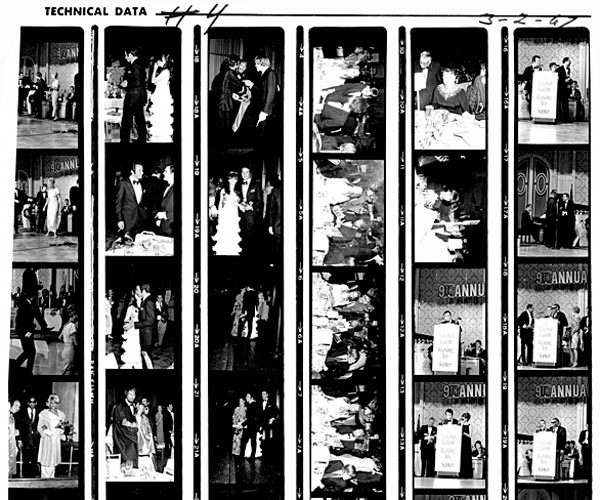 Sinatra takes home three Grammys, and the Lifetime Achievement Award is presented to Duke Ellington. No best new artist is awarded, despite debut albums from recognizable names such as the Monkees, the Young Rascals, the Statler Brothers, Buffalo Springfield and Jefferson Airplane.
Record: "Strangers in the Night," Frank Sinatra
Album: "A Man and His Music," Frank Sinatra
Song: "Michelle," songwriters John Lennon, Paul McCartney
New artist: not awarded
It is a capital mistake to theorize before one has data. Insensibly one begins to twist facts to suit theories, instead of theories to suit facts.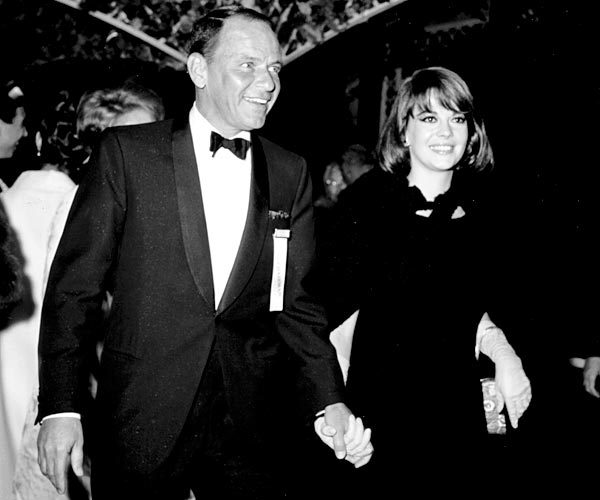 Frank Sinatra not only wins album of the year but is also awarded the Lifetime Achievement Award. Bemoaning the 47 categories that the Grammys go through while comparing "oranges to lemons and tangerines," the L.A. Times' Charles Champlin writes that there were all of these choices, "yet nary a single one for Bob Dylan," whom he calls the most influential musician of the last year.
Record: "A Taste of Honey," Herb Alpert and the Tijuana Brass
Album: "September of My Years," Frank Sinatra
Song: "The Shadow of Your Smile," songwriters Paul Francis Webster, Johnny Mandel
New artist: Tom Jones
APRIL 13, 1965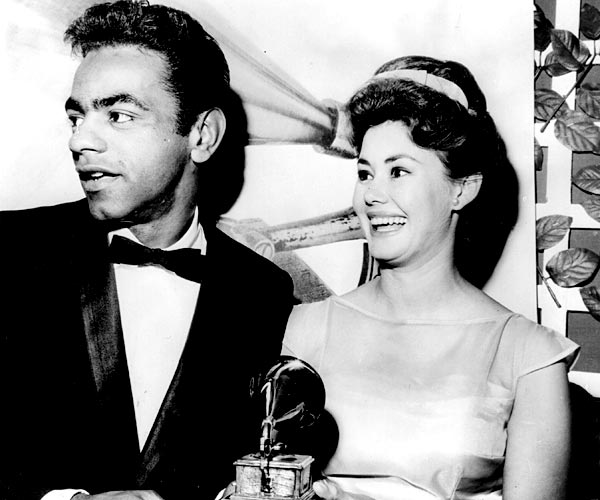 Though Stan Getz and Astrud Gilberto's "The Girl From Ipanema" is a runaway hit, this is the beginning of a British invasion. Grammy voters may not have noticed, though. The Beatles win for performance by a vocal group for "A Hard Day's Night" but don't win for record of the year for "I Want to Hold Your Hand" or for song of the year.
Record: "The Girl From Ipanema," Stan Getz and Astrud Gilberto
Album: "Getz/Gilberto," Stan Getz & Joao Gilberto
Song: "Hello, Dolly!," songwriter Jerry Herman
New artist: The Beatles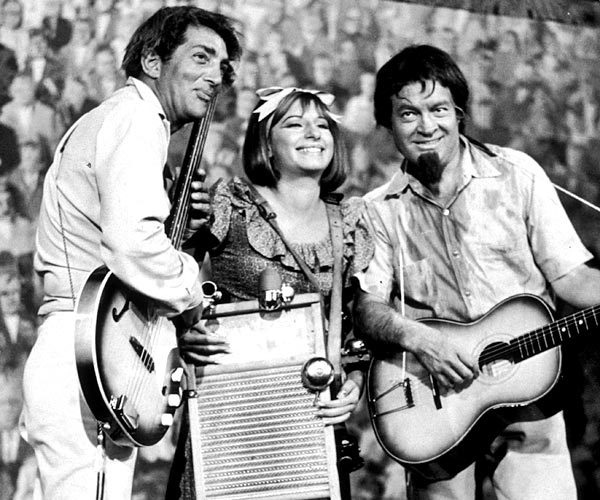 Some 550 members gather at the Beverly Hilton, and others gather in Chicago and New York. Barbra Streisand is honored for her "unorthodox vocalizing," The Times writes, winning Grammys for album of the year and female vocal performance. The Swingle Singers are recognized for their swing interpretation of "Bach's Greatest Hits."
Record: "Days of Wine and Roses," Henry Mancini
Album: "The Barbra Streisand Album," Barbra Streisand
Song: "Days of Wine and Roses," songwriters Henry Mancini, Johnny Mercer
New artist: Ward Swingle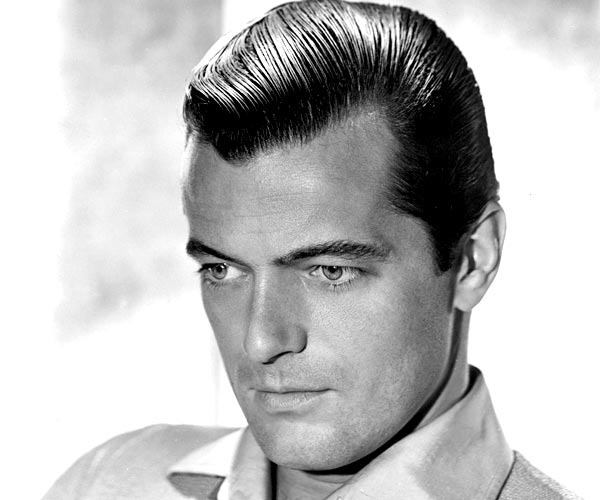 Tony Bennett and Ella Fitzgerald lock in vocal performance awards while winners are announced at dinners in New York, Chicago and in Los Angeles at the Beverly Hilton. Elsa Lanchester accepts an award for her late husband Charles Laughton for best documentary or spoken word recording for "The Storyteller." And the JFK-spoof comedy album "The First Family" wins for album of the year.
Record: "I Left My Heart in San Francisco," Tony Bennett
Album: "The First Family," Vaughn Meader
Song: "What Kind of Fool Am I?," songwriters Leslie Bricusse, Anthony Newley
New artist: Robert Goulet
 MAY 29, 1962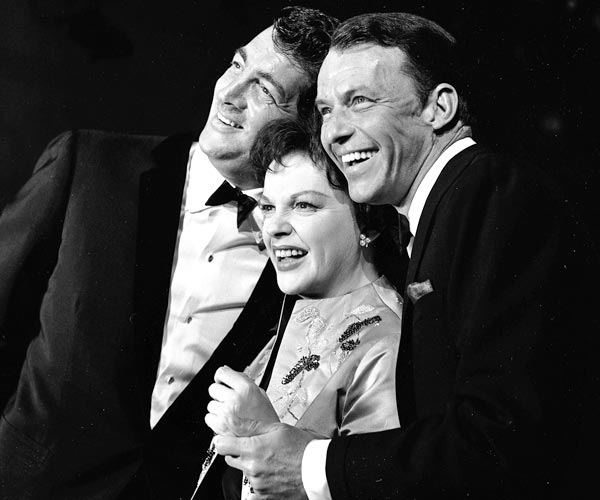 Producer Henry Mancini takes home the most awards for his "Breakfast at Tiffany's" film score and song, "Moon River," after his two Oscar wins one month earlier. Ceremonies are held in Chicago, L.A. and New York. Judy Garland's legendary night at Carnegie Hall produces the album of the year winner.
Record: "Moon River," Henry Mancini
Album: "Judy at Carnegie Hall," Judy Garland
Song: "Moon River," songwriters Henry Mancini, Johnny Mercer
New artist: Peter Nero
Keep Yourself Updated By Following Our Stories From The Whole World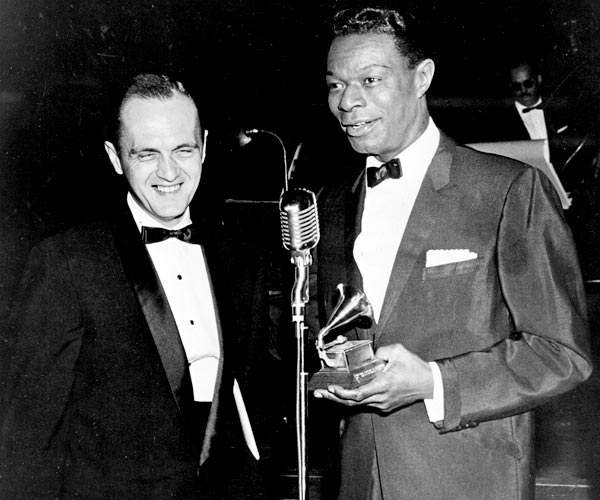 About 400 people attend the black-tie dinner held at the Beverly Hills Hotel for the third ceremony. Emcee Mort Sahl, referencing the infamous Nikita Kruschev shoe-banging incident, cracks that "that fellow in Russia should be voted for the best solo of the year." Bob Newhart takes home awards for his comedy album "The Button-Down Mind of Bob Newhart."
Record: "Theme From 'A Summer Place,'" Percy Faith
Album: "The Button-Down Mind of Bob Newhart," Bob Newhart
Song: "Theme From Exodus," songwriter Ernest Gold
New artist: Bob Newhart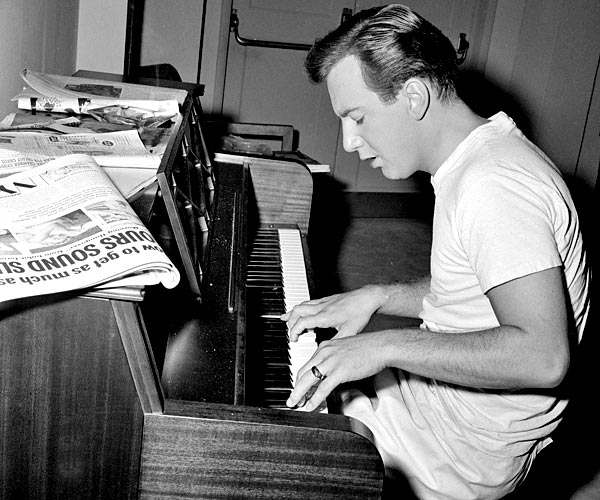 The show is telecast for the first time, on an episode of NBC's "Sunday Showcase." Frank Sinatra — who was largely snubbed in the first ceremony but won for an album cover he didn't design — collects the first of his three album of the year awards, for "Come Dance With Me!" The awards are presented at the Beverly Hilton and the Waldorf Astoria in New York.
Record: "Mack the Knife," Bobby Darin
Album: "Come Dance with Me!," Frank Sinatra
Song: "The Battle of New Orleans," songwriter Jimmy Driftwood
New artist: Bobby Darin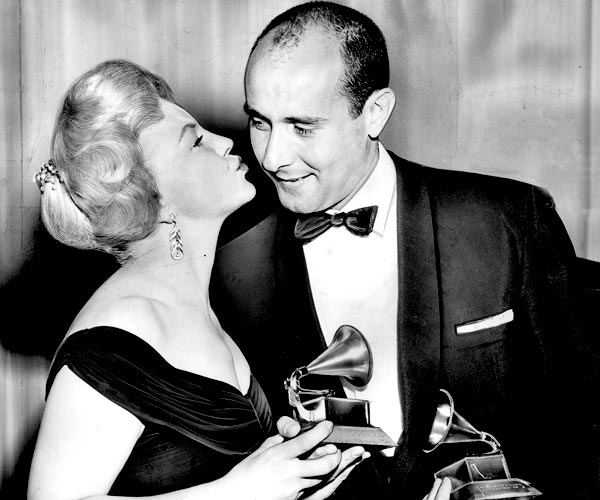 Paul Weston, president of the recording academy's L.A. chapter, emcees the inaugural banquet and hands out 28 awards at the Beverly Hilton honoring music from 1958. "The Chipmunk Song" wins three awards, which triggers widespread fury among music critics because the industry does not recognize rock 'n' roll and substitutes the Chipmunks to represent music by young people.
Record: "Nel Blu, Dipinto Di Blu (Volare)," Domenico Modugno
Album: "The Music From Peter Gunn," Henry Mancini
Song: "Volare," songwriter Domenico Modugno
Sources: Times research
Credits: Noelene Clark, Patrick Kevin Day, Maloy Moore, Jevon Phillips, Nardine Saad, Aaron Williams